In Sam and Max you take control of Sam a well, talking dog. And you are joined by you small furry partner Max, a talking rabbit. Sam and Max are freelance police who must save the world from a evil political plot. The game is a click adventure where your only interaction with the game world is with your mouse and the few objects you can pick up. Sam and Max Episode 4: Abe Lincoln must die is the fourth episode of six that make up the first Season of Sam and Max which all have a connection story wise. In this episode you wander around two areas. One of them is your office, the neighbor hood your office is located is a strange one with neighboring stores include a irresolute store owner , a paranoid drug store owner and a Michael Jackson-ish scam artist. The second area is the White house where most of the game takes place. You can switch between the two areas freely at any time to help solve the mystery.

For you old school gamers this is a revive of the old Lucas Arts game but now its in 3d and are much shorter with each episode being around 3 hours. This episode took me roughly 4 hours to complete and is available on Game Tap now and available from Telltales website on March 8th.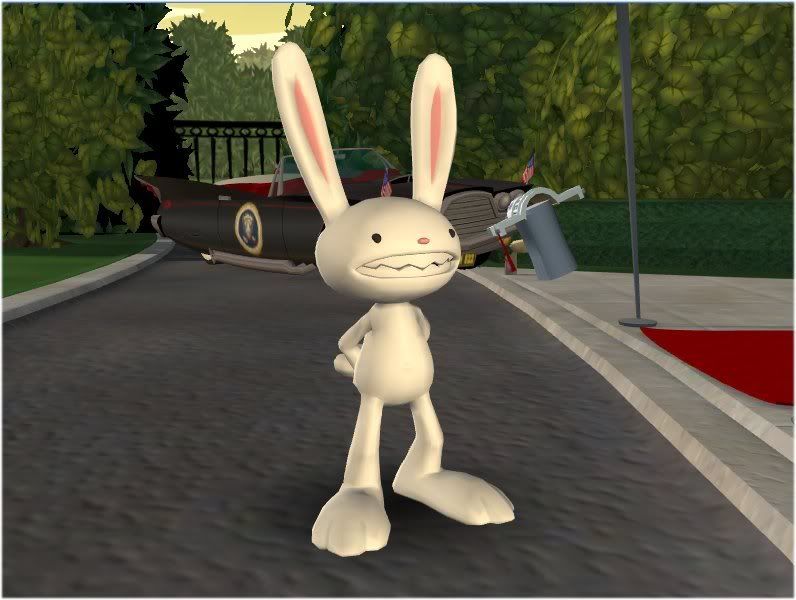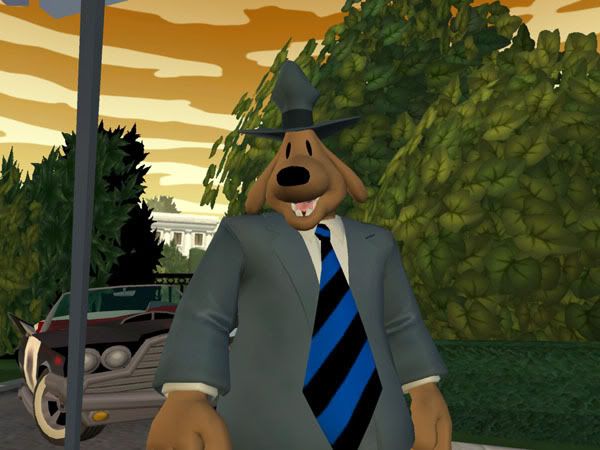 Gameplay: 8
For a click adventure game its one of the best I've played in many, many years. I was disappointed that there's not as much interaction with objects as there should but what interaction you have is very humorous and sometimes you get different reaction from people/things after trying to use them multiple times. The controls in this game are very simple, just clicking which works almost flawlessly except for some rare situations where you'll take an odd path to get to where you clicked. Though this happens so rarely that even if it's not fixed in the final version it doesn't affect gameplay at all. Now the story, this game has a great story though I haven't played any past episodes of Sam and Max so I can't enjoy it as much because it includes past characters and parts of the old story line though if you haven't played the past episodes don't get scared out of playing this. It still makes perfect sense if you start here. At the end of this game I was waiting to see how the next episode starts off which will be a definite purchase for me. Another great part of this game is its humor. This game is jam packed with humor, mature and childish. This episode contains a lot of political humor to, often poking fun at the current issues. But if you're not into politics don't worry there's still hundreds of one-liners or just small little jokes hidden in the game to keep all age ranges entertained. The last thing I'm going to cover in this section is the difficulty. At the beginning of the game I had trouble solving the puzzles but after a little but of help I got used to the way you need to think to advance in the game and I think the difficulty scales perfectly because like I said, after I got used to the game I never got stuck on any one part but I didn't know exactly what to do right away either.
Graphics: 8.5
Now this game certainly isn't trying to achieve a realistic looks but it hits the nail on the head with the look it's trying to achieve. The cartoon look helps convey the humor this game has and also helps its up beat feel.
Sound: 9
This game has jazz like music that's reminiscent to the Xbox game Voodoo Vince. The sound effects fit the game style but there nothing spectacular but as this is a adventure game it contains a lot of talking and the voice acting in this game is amazing. The voices fit the characters personality and the lines are great unlike most games which have out of place lines and often campy of lame dialogue.
Value: 9.5
When I finished this game I felt like I got all $9 out of this game. The game is short and is able to be finished in a little less than 3 hours if your quick to figure out the puzzles and don't waste time chatting up the npc's. Though if you're not as quick (like me) at completing the puzzles and chat around a bit the game easily gets extended another 1 and a half or 2 hours.
Replay: 3.5
This game is a single player only and has a linear plot. The only reason to replay the game is to do goofy little things you missed the first time, like try extra dialogue options.
Overall: 8.5
This game is amazing. The humor and story in this game are great which the main selling points of the game are. It hits a great price point at $9 but the big deal is getting the whole season (all 6 episodes) for $35 instead of buying them separately which would cost $54. Whether you're a Casual gamer or hard core one, a teenager or adult you will love this game which hits a homerun on every thing its trying to do. This is a must purchase pc game.
Review wrap up:
Things I liked and didn't like about the game
+ Quick loading times, not machine taxing
+ Great story, great humor
+ Some of the best voice acting I've heard
- Not as interactive as it should be
- Too short
- Some dialogue gets repetitive
Special thanks to Steve519 from XBL Radio and the Telltale PR team.
If you have any further questions on this game or need help comment on this post or pm me on the forums.